InReach MapShare



Primo's Trip Galleries - Click a Thumbnail to view each Gallery

2023:













2022:























2021:










































2020:















































2019:




































2018:


































2017:






















2016:
















2015:





















2014:
























2013:












2012: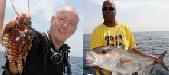 2011:





















2010:








2009:

















2008:












2007:















2006:















2005:













2004:





2003:








2002:







---
Offshore Fishing - You pay all the expenses and allow me to Scuba Dive I will take you. Commonly this is 100 gallons of Fuel and a 150 pounds of Ice plus some tackle, food, and water. A tip as well if you want a web page gallery like you see when clicking on the thumbnails above plus a Facebook Album to share. A Common Range is $400-$800. Split this 4-ways for 4 persons and it's $100-$200 per person. What a Deal!

No minimum number of persons, but I may join other fishermen to your trip - up to four persons. This means you don't have to worry about getting your buddy's to comit. If you want to go fishing, just book yourself. I can legally take up to 6 persons, but it works much better if kept to four persons or less. If you have children 12 years or younger, please bring them a life jacket that fits them properly. They are required by law to wear it while underway.

Fuel is billed at current national average for mid-grade and measured by a floscan. My Yamaha 4-Stroke Engine is as economical as they get, but Trip Fuel can range from 25 to 130 gallons depending on where you want to fish. View the trips by clicking the above thumbnails and you can read in the report how much we burned on that trip.